Press Release
InterContinental MSP Airport Hotel Now Open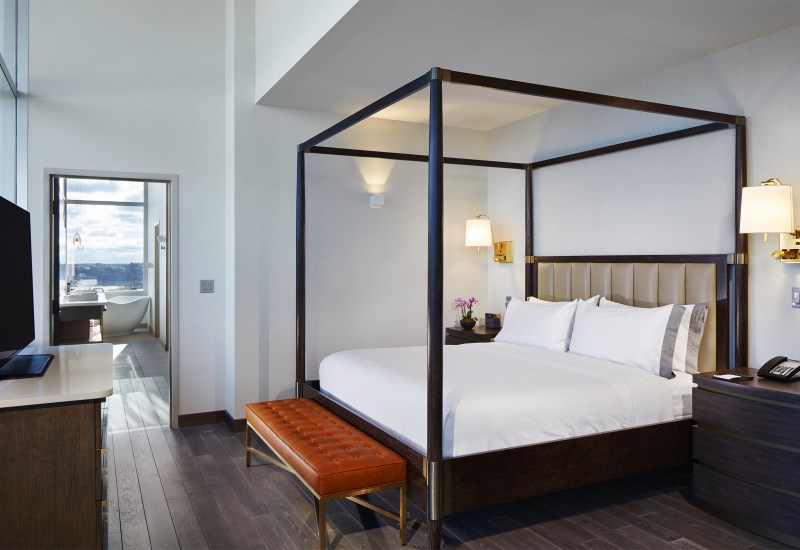 July 30, 2018 — Minneapolis, MN – The first and only hotel in history to be connected via skybridge to MSP Airport officially opens its doors today after nearly two years of construction. Designed by RSP Architects and built by PCL Construction, this 291-room property provides sophisticated luxury and unparalleled convenience to both travelers and local guests. The project, developed by Graves Hospitality and Intercontinental Real Estate Corporation ("Intercontinental"), includes a luxury spa, two signature restaurants, 30,000 square feet of flexible, state-of-the-art event space and a 12th floor observation bar.
InterContinental MSP Airport Hotel defies the typical airport hotel experience by elevating it into one of seamless convenience and total luxury.
"Graves Hospitality and its partners have created an extraordinary space for our passengers to stay, dine or simply relax." Said Brian Ryks, CEO of the Metropolitain Airports Commision, owner and operator of MSP. "We look forward to our continued partnership in providing passengers with their best possible experience at MSP."
The 12-story hotel features beautifully-appointed guestrooms: a combination of kings and double queens. Guest rooms provide a private hideaway with a modern design aesthetic featuring warm, neutral tones with stone and wood finishes and gold accents. Honor bars are stocked with all your essentials, including a custom bottled whiskey exclusive to the hotel. Minneapolis-based Tattersall Distilling has created a two-year-old wheated bourbon in 375ml bottles perfect for an in-room cocktail. Crowning the hotel on the 12th floor are the spacious 1,865 square-foot Wingspan Suite and the 1,383 square-foot Pinnacle Suite. Both offer exquisite attention to detail with unsurpassed comforts and breathtaking views. The entire property has been expertly engineered to eliminate jet engine noise.
The only hotel in history connected to MSP Airport, the InterContinental offers travelers and visitors the ultimate conveniences. For travelers, a third-floor skybridge connects guests directly to Concourse C in Terminal 1 – Lindbergh. With luxurious finishes and a living green wall, this security checkpoint enables travelers to go directly to their gate from guestrooms, spa or hotel restaurants. For guests, the hotel offers valet parking or self-park options in a designated parking ramp. Restaurant and spa guests will receive parking validation for up to two hours.
"We are proud to be the first and only hotel attached to this beautiful airport. Whether you're passing through as a traveler or live in the area and are taking advatage of the superior amenities we offer, we have made every effort to welcome both travelers and locals to experience our fantastic restaurants and luxurios spa," said Benjamin Graves, President of Graves Hospitality.
Starting August 21, 2018, locals and travelers alike are invited to experience Elevations, a luxurious spa offering everything from body wraps and scrubs to massages and facials. The Tranquility Room features a stone thermal pool and steam room. An outdoor courtyard with a firepit offers the perfect space to relax and renew. Workout gear and swimwear will be available for those wishing to de-stress with a steam, spa treatment or time spent in a well-appointed fitness room.
Whether guests are staying at the hotel, looking to meet a friend on a layover, or living in the area and want a memorable night out, the InterContinental restaurants offer something for everyone. The nationally-renowned Bradstreet Craftshouse will reopen on August 21, 2018 after relocating from its previous Lowry Hill address in Minneapolis. Visitors enjoy expertly-crafted cocktails and exceptional gastro-pub food selections served in a warm, inviting space with rich and comfortable finishes. Open daily for happy hour, the bar's menu is extensive including food selections such as pastrami sandwiches, Bradstreet burgers and dry-rub chicken wings. As the social hub of the hotel, the space is akin to the billiard room of a lumber baron's mansion. Guests can engage in a lively game of pool, shuffleboard or foosball until bar close.
Also on the lobby-level, guests will discover La Voya, the French Brasserie whose name is inspired by the French Voyageurs who brought their culinary influences to Northern Minnesota. Open daily at 6 a.m., La Voya serves breakfast, lunch and dinner featuring traditional French dishes with Minnesota influences. Small plates include the house-smoked trout toast, crispy panisse, foie gras and smoked bone marrow. Entrée options include signature Minnesota dishes like, wild rice served with roasted chicken, duck breast and Red Lake walleye. French favorites, like the Parisian Gnocchi and the Steak Au Poivre, will round out the menu, making La Voya a must-visit for guests and locals alike.
In September, InterContinental's 12th floor will offer a very special experience. Altitude, located on the Penthouse Level, offers rare and breathtaking 180-degree views above the airfields and park preserve. Reflective of its unique location, Altitude specializes in "flights" of wine, champagne, spirits and beer. Guests are invited to enjoy a snack while taking in the stunning views through floor-to-ceiling, soundproof windows. Altitude is a versatile space large enough to host private events with room to seat 150 people or host 300 people for a cocktail reception. It is also open to the public.
Room rates start at $289. Reservations may be made online at InterContinentalMSP.com or by calling 612-725-0500.
For more information:
612-725-0500
5005 Glumack Drive, Minneapolis, MN 55450