Press Release
Intercontinental Acquires Heartline in Portland, OR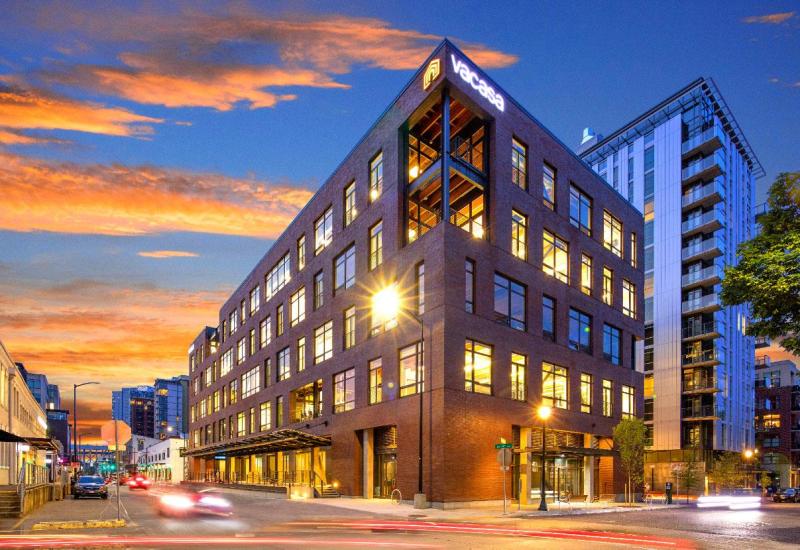 Portland, OR – March 15, 2019 – Boston based Intercontinental Real Estate Corporation ("Intercontinental"), a national real estate investment, development and management firm, announced the acquisition of the office and retail unit of the Heartline Condominium (the "Property") on behalf of its managed fund "U.S. Real Estate Investment Fund, LLC". This acquisition, led by Allen Logue, Director, Acquisitions for Intercontinental marks the first office investment and second overall investment for Intercontinental in the Portland area.
The Property is a newly-constructed, five story office and retail building totaling 72,130 SF. The Property is located in the Pearl District, a short walk north of the Portland CBD. The Property is fully leased with 100% of the office space occupied by Vacasa, a leading vacation rental management company.
Completed by Security Properties Development Company in 2018, the Property's design pays homage to the Pearl District's industrial history and features a brick façade with exposed steel and timber interiors. The building is outfitted with large and open floor plates, floor-to-ceiling windows and unique outdoor decks on each floor. Additional amenities include 60 on-site garage parking spaces, a 2,700 SF landscaped roof terrace and five on-site retail tenants (burger restaurant, wine bar, poke restaurant, juice bar, and ice cream shop). The Property's new construction and design attributes create a modern campus environment that cultivate creativity and collaboration.
The Property is ideally located in the heart of the Pearl District, providing access to an abundance of nearby housing, retail amenities and transportation options. The Pearl District continues to be an attractive location for technology companies as they seek to leverage the skilled labor force in the market.
Allen Logue commented, "The acquisition of Heartline provides an attractive investment with long-term tenancy thus providing expected stable cash flow for Intercontinental and our investors. The brand new creative urban office is located on the 50 yard line of the live-work-play Pearl District neighborhood. This environment aligns completely with our strategy to target core investments in a coveted market."