Press Release
Intercontinental Real Estate Corporation and K Property Group Acquire Commercial Properties at 30-32 Howard Street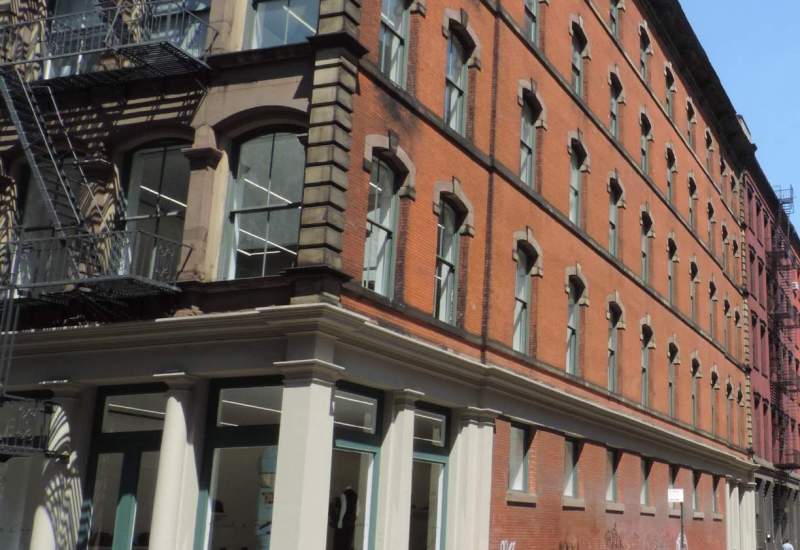 NEW YORK – (January 11, 2018) – K Property Group ("KPG") and Intercontinental Real Estate Corporation ("Intercontinental") have purchased 30- and 32 Howard Street, two five-story commercial buildings at the corner of Crosby Street. Plans for the properties include a gut renovation to combine the buildings, plus rear and roof extensions. When completed, there will be approximately 42,000 rentable square feet of luxury full-floor and smaller pre-built offices on the second, third and fourth floors; and a duplex office penthouse with outdoor terrace on the fifth and sixth floors.
"We are thrilled to break into the Manhattan /New York City real estate market with this acquisition," says Peter Palandjian, Chairman & CEO of Intercontinental. "It is a construction and development opportunity that combines beautiful history and trendy innovation with an opportunity to create union labor jobs. SoHo is an incredibly exciting submarket and we are especially pleased to work with a superb team led by our partner KPG."
"This corner has a dynamic that reflects Soho in the '90s," says Rod Kritsberg, Founder and Managing Principal of KPG. "It's why people travel here for pictures to capture a little bit of edge and a hell of a lot of style. It is also the reason leading edge brands thrive on this street. We are really excited to tap into that energy and create a 'lifestyle' product to match it. Everything we've planned for the building is in line with the look and feel of the neighborhood. We have something special planned for the office interiors, which will be transformed into high-end, bespoke pre-built suites that are a cut above even the posh standards of the location."
Gregory Kraut, Managing Partner, KPG, adds, "This is a premium office and retail location in New York's hippest neighborhood, surrounded by the trendy retail destination of Howard Street and the chic cobble-stoned charm of Crosby Street. The building truly complements and epitomizes the rapidly changing landscape of lower Soho."
Currently the U.S. headquarters of fashion icon Rick Owens at 30 Howard Street, whose Soho flagship is in the corner space, the historic location is surrounded by a host of high- fashion brands, as well as many of Manhattan's most exclusive downtown lounges, hotels and restaurants. Neighboring businesses include Roman and Williams Guild, Agnès B, Opening Ceremony, Nike Lab, Sleepy Jones, Stadium Goods and the 11 Howard Street Hotel. The property is also close to public transportation, including the number 6, R, and W subway lines, making it exceptionally accessible for office and retail businesses.
As part of the development plan, the new ownership will market the space to a variety of potential tenants.
International architecture firm Spector Group will be designing the floor plans with a focus on combining higher form and function. For the interiors, HBA Architecture & Interior Design will create the workspaces with elements that channel high-end hotels or luxury residential condominiums. The available office spaces will range from approximately 3,800- to 7,200 square feet, with the potential to create a building-within-a-building, three-floor penthouse.
There will be 4,500 square feet of fully renovated retail space at 32 Howard Street, comprising 2,500 square feet at ground level and 2,000 square feet at the lower level. In addition, the ground level, column-free retail space features 16-foot ceiling heights and a new 25-foot wide retail facade.
Each of the upper level floors, from second to fifth, have 19 windows and high ceilings. When construction is completed, individual floor plates will contain 7,200 rentable square feet and a 170 feet of wraparound window frontage, considered a rarity in Soho.