Press Release
Intercontinental Acquires Alterra & Pravada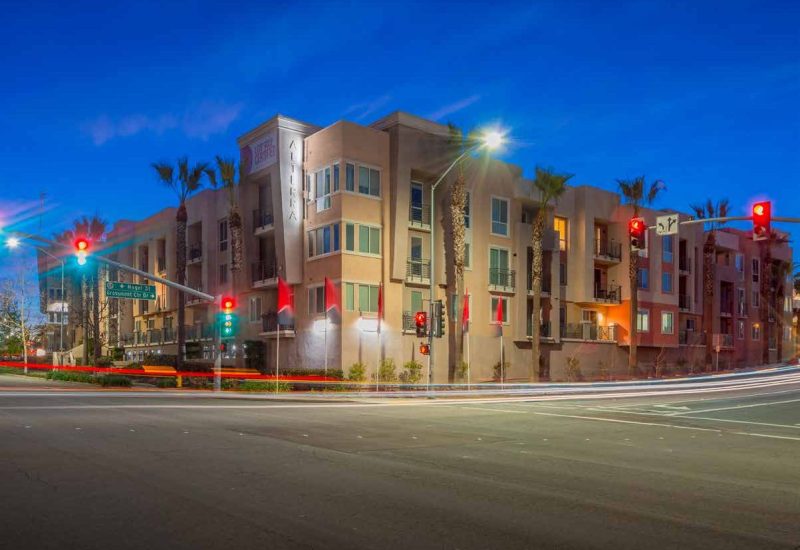 Los Angeles, CA (August 8, 2018) – TruAmerica Multifamily in partnership with Intercontinental Real Estate Corporation ("Intercontinental") has acquired the leasehold interest in the largest transit-oriented development in San Diego County, the 527-unit Alterra & Pravada at Grossmont Station in La Mesa, CA. "High-density, transit oriented development such as Alterra & Pravada is an example of smart growth and sustainability principles that promote housing affordability and reduce traffic congestion on our streets and highways," said TruAmerica CEO and founder Robert E. Hart. "We continue to seek accretive investments where we can add value and generate appropriate risk adjusted returns for our investors, while at the same time contribute to the solution of quality affordable workforce housing with access to jobs, not just here in California but throughout the United States."
Completed in 2010 by the seller Fairfield Residential in partnership with the Metropolitan Transit Authority, the LEED Gold certified community features one- and two-bedroom units situated in six, four-story buildings on a high-density eight-acre site. Of the 527 units, 15% are dedicated for rent to moderate and very low housing wage earners.
TruAmerica and Intercontinental will undertake a capital improvement program that will consist of a modest refresh of the nearly 10-year-old interiors as units turn, and will upgrade the common area amenities that include Alterra & Pravada's two clubhouses, two pools and pool decks. The exterior renovation program also will include new landscaping and paint to improve the overall curb appeal of the community.
"Upon the execution of our business plan, residents will benefit from an upgraded living experience, complementing Alterra & Pravada's greatest amenities which are its location, walkability and commutability, setting it far apart from other properties in the competitive set," said Jessica Levin, Senior Director, Acquisitions for Intercontinental Real Estate Corporation. "We believe that this compelling combination will make this asset an excellent long-term investment for our investors."
The largest of 23 transit-oriented developments (TOD) in San Diego County, the poperty is located immediately adjacent to the Grossmont Transit Center at 8727 Fletcher Parkway in La Mesa, 11 miles east of downtown San Diego. Served by the Orange and Green Lines of the San Diego Trolley and Metropolitan Transit Center bus lines, The Grossmont Traffic Center is a key trolley system transfer point providing direct routes to the region's major entertainment and employments hubs including El Cajon, Mission Valley and Downtown San Diego. Much of the success of Alterra & Pravada as a TOD is reflected in the average weekday boarding count of more than 2,600 riders at Grossmont Trolley station making it one of the heaviest used stops in San Diego County.
Alterra & Pravada is also within walking distance to The Grossmont Shopping Center with more than a million square feet of retail shops and restaurants, as well Sharp Grossmont Hospital, La Mesa's largest employer.
In 2012, The League of California Cities recognized Alterra & Pravada for combining many of the current smart growth points, utilizing existing infrastructure, promoting transit and providing measures for sustainability with close proximately to jobs and entertainment.
Kevin Mulhern, Rachel Parson, Stewart Weston and John Montakab of CBRE's San Diego Multifamily Investment Group represented TruAmerica and Intercontinental and the seller, Fairfield Residential in the transaction.