Press Release
Construction at 1100 Broadway in Oakland Reaches Final Heights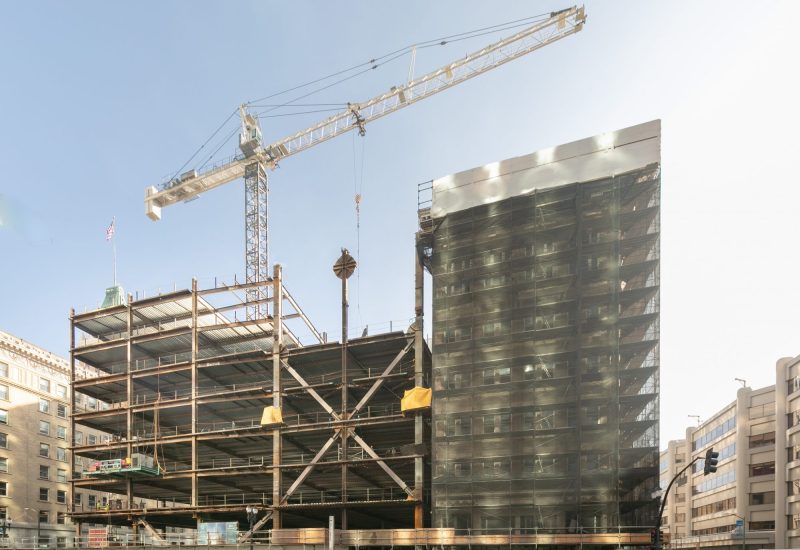 Oakland, CA – February 28, 2019 – Today, Ellis Partners and Intercontinental Real Estate Corporation in concert with general contractor Hathaway Dinwiddie celebrate the topping off of "The Key at 12th," a new state of the art Class A office tower that integrates with the historic Key System Building. A "Topping Off" is a major construction milestone in which one of the final steel beams is put into place to complete the framework of a building. Completion and occupancy are expected in early 2020. Oakland Mayor Libby Schaaf and other City officials joined in on the celebration.
Schaaf stated, "It's thrilling to see the progress that has been made on this project in just 12 short months. The Key at 12th bridges the rich history of our city with our bright and energetic future," said Oakland Mayor Libby Schaaf.  "This project created 300 union jobs and will be the workplace of more than 2,000 permanent employees right here in the heart of Downtown Oakland.  We are grateful to companies like Ellis Partners that have deep roots in the Bay Area, bringing a renowned partner like Intercontinental to Oakland and also partnering with a quality union contractor like Hathaway Dinwiddie."
The uniqueness of the project sits in its creative combination between Oakland's historic Key System Building and a gleaming new 18-story tower. To bridge the old with the new, the two buildings will fully be fully connected. The Key System Building, built in 1911 and shuttered after the 1989 Loma Prieta earthquake, was the headquarters of the Key System Railway which transported East Bay residents locally and across the lower deck of the Bay Bridge to San Francisco.
The preservation of the Key Systems building reflects the transformation in the heart of Downtown Oakland, mixing old and new while providing hundreds of well-paying union construction jobs in Oakland.
"We are particularly pleased to team up with a respected and successful partner like Intercontinental to restore a beautiful piece of Oakland's history," said Melinda Ellis Evers, Managing Principal at Ellis Partners. "Throughout this project, we have held steadfast to the idea of respecting Oakland's history while looking forward to our shared future."
This joint project between Ellis and Intercontinental totals 345,000 square feet, with spacious ceilings, expansive windows, three roof decks and prominent pedestrian interaction at the street level for retail and dining. In order to bring the highest level of architecture to this project, ownership recruited Gensler, a locally-headquartered world-class architecture firm. The project also includes adjacent parking and is immediately adjacent to the 12th Street BART station, giving all tenants instant access to the entire transit network of the Bay Area.
"'The Key at 12th' will create a unique and modern workplace with the nexus of the entire BART system right outside our front door," said James Ellis, Managing Principal of the Ellis Partners. "We are thrilled to be able to bring this vision to life in this vibrant, bustling section of Downtown Oakland.  We are proud to be working with Hathaway Dinwiddie on this project as it has a level of complexity and sophistication in construction that suited their firm well and allowed us to fast-track the construction."
Paul Nasser, Intercontinental's CFO added, "We're delighted to be investing our union pension fund dollars into such a meaningful downtown Oakland development, which project is expected to generate a terrific return for our investors and the opportunity for quality work for over fifteen different local building trades.   We are appreciative of the excellent relationship forged with Hathaway Dinwiddie in the process and it is especially gratifying to join Ellis Partners in this important project."
"The Key at 12th"' includes a side core layout with minimal interior columns which maximizes floor space, and a creative, open-plan design. Beyond the roof decks, the project also offers abundant amenities including: a dedicated bike parking entry and secure ground-floor parking, a private locker room and showers for building tenants.
The University of California's Office of the President has pre-committed to lease the office floors through the 10th floor. What remains available for lease is 164,000 square feet on the highest eight floors which feature extraordinary views and a dedicated destination-based elevator bank serving only those floors and the building top roof deck.
Will Miller, Partner and Director of Asset Management at Ellis Partners stated, "Multiple regional and national firms have expressed interest in the remaining office space, confirming the market demand for modern, centrally located office space in Oakland. The Gensler design provides for floor to ceiling windows and clear heights that will work well with open or dropped ceilings as well provides tenants access to many tech-related features that help employers recruit employees.  Tenants are also appreciating that the building has been pre-certified LEED Gold."
Ownership also announced  that it has engaged Chris Homs and Chris Silverman of Lockehouse Retail Group to secure retail tenants for the ground floor which will includes not only the historic, fully renovated Key System original banking hall, but also brand new, state-of-the-art retail space at the corner of 12th and Broadway.